Rotis is everywhere
Otl Aicher one of the leading German graphic designers developed in 1988 the typeface Rotis, named after the town Olt Aicher lived in.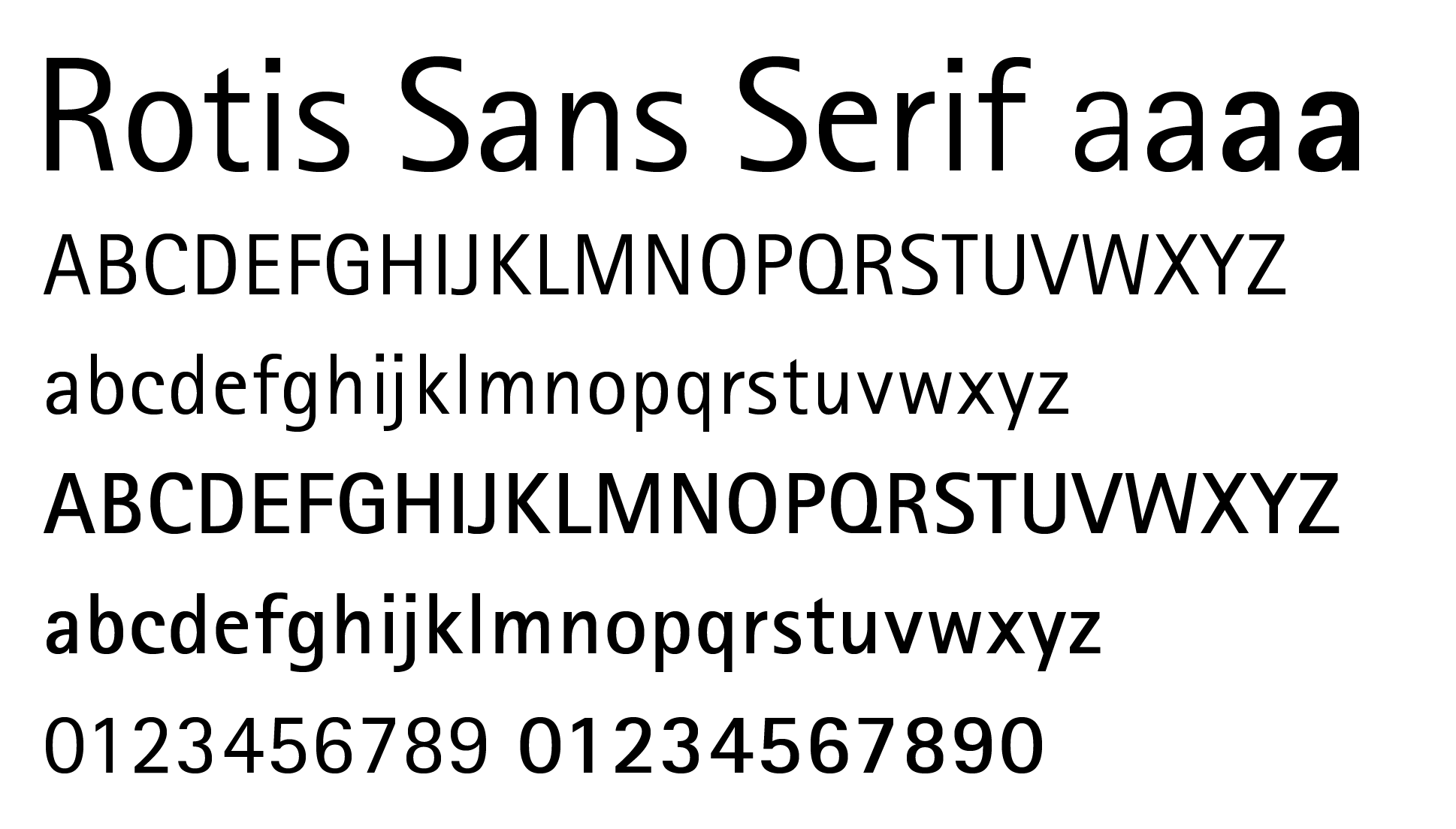 Typeface Rotis Serif
Available in four font families from sans to serif, Rotis typeface can be found everywhere around you. Unfortunally Olt Aicher died in a traffic accident in 1991. Linotype currently owns the Rotis Font Family, where all of the font variations can be bought.
Rotis® gives an impression of both strength and generosity and all four versions can be used interchangeably with one another. Rotis® is suitable for book/text, documentation/business reports, business correspondence, magazines, newspapers, posters, advertiments, multimedia, corporate design.
Linotype
During our holiday in the beautiful German Steigerwald (near Nürnberg and Bamberg) I came across the Rotis Font Family quite often, this is a photo showcase collection of the Font Familiy Rotis Sans.
Boek
This is where I first spotted Rotis, during a visit at the bookstore and came to the idea to putting this post together. As you can see, Rotis works well for legibility and design.
Street Signs
We were walking down the streets where I took this photo of a small billboard, The font family Rotis has enough detail to show at large points. Good readable from a distance.
Cafe Signage
Sitting down for a espresso where I saw this acrylic nameplate, clearly the usage of the noticable ´e´ of Rotis. A good color usage as where the brick will look dark from a distance the off-white lettering will stand out.
1000 Jahre Bamberg
During the celebration of 1000 years of the city Bamberg various information signposts has been put up in the city (now only available in the Church), a clear usage of font Rotis.
Museum Nürnberg
We went to various museum in Nürnberg, but this one got my attention. The openinghours and detailed information folder about the museum was all created using Rotis.
Shopping
My wife wanted to go shopping, so I sat down and read some magazines. Here I spotted Rotis in a Loreal print ad, see the payoff.
Escape route plan
When walking down a mayor cityhall I spotted this Escape signage. All type is printed using Rotis font family, easy to read.
Bookstore
Going to a bookstore in Germany is a pleasure for all typophiles, you can recognize a font on almost every cover you see. I spotted the Rotis on the cover of this book.
Door Signage
A small signage for a local company called Temme uses Rotis on their door signage, a bold versions and a regular are displayed in the design.
Museum Gerolzhofen
When visiting the museum in the small city of Gerolzhofen you can find the openinghours plate created using the font Rotis. With so many lines and text Rotis proves a clear legibilty.
Arte Caffe
At the tourist guide shop I found this business card all designed using the type Rotis. Unfortunally we could not find the coffe shop, but I sure liked the design.
Kind of noodles
At the grocery we bought some kind of noodles (Spätzle), you can get this typical German kind of noodle with many dishes. At the package I spotted the Rotis, small printed but readable.
Rotling Wine
With food you can drink wine, I bought this dry Franken white wine of 2007. The label was printed using the type Rotis. If you can find a bottle I can suggested it, tasted very good.
Steigerwald walk
The area we stayed was Steigerwald, a great forrest area and we went for many walks there. Our guide was a map of the area, with on the frontpage a design using Rotis.
Shoppingbag
At the local bakery we bought typical German bread (really dark with good taste), we carried the bread in this paperbag, printed with the details of the bakery using Rotis.
(wrapper)
Where to get Rotis?
The font package is available in four type families, via Linotype:
Personally I like Rotis Sans Serif Font Family (2nd on the list above) the best, it has a very distinctive look and feel with a high legibilty for usage in many fields of visual communication.
More information about Olt Aicher
There is much written about Olt Aicher who was not only a font designer but also a graphic designer who had a big part in designing the Münich Olympic Games in 1972.