Erasmus University Rotterdam
A clear and concise wayfinding system for Erasmus University Rotterdam.
Erasmus University Wayfinding
/designworkplan was consulted for a thorough wayfinding research. The research showed that the information architecture and the wayfinding tools needed an upgrade. A clear and concise wayfinding system for (first-time) visitors, students and employees.
Our key recommendations included;
Developing a information architecture for all needs of visitors information
Aligning stakeholders and provide wayfinding guidelines within to operate from
A holistic approach with a design for all principle
Create a strong physical digital wayfinding connection
A ongoing proces we have created multiple designs for wayfinding maps, visitors information, building identification and more. We have become a long term partner for Erasmus University providing wayfinding expertise for the Campus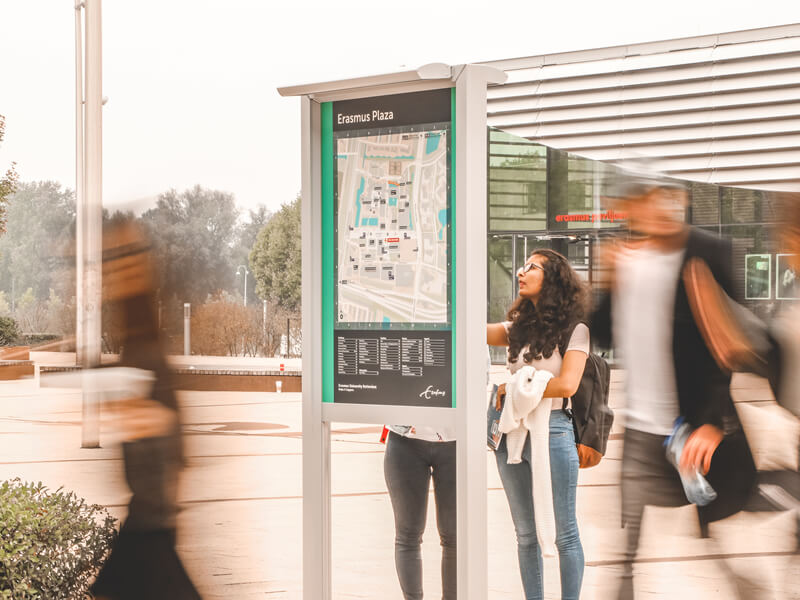 Digital strategy
From our research a pattern of Google Maps and Streetview was noticed among the users. A complete update on Google Maps and Streetview was rolled out. The information on both the website of the Erasmus as on Google map services and the physical information connects to create a clear user experience.
Map based wayfinding products
Throughout the campus wayfinding map are located. The maps are heads-up showing building information, entrances, safe crossings and more. A clear and easy to understand wayfinding information design shows visitors and students the way.